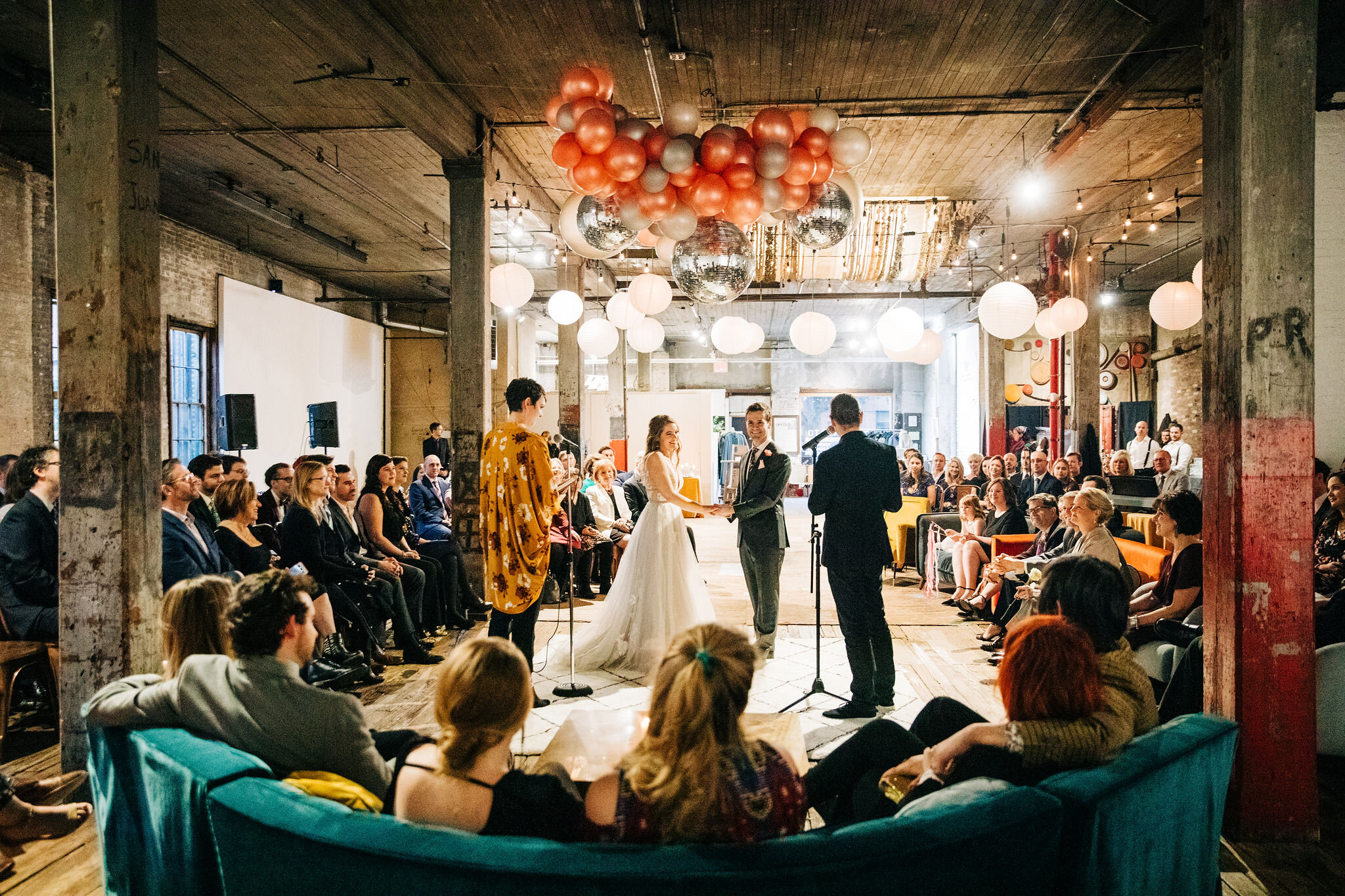 Photo by Danielle Bennink Photography of John + Amy getting married in the round with a lounge-like setting!
Want to plan something a little untraditional when it comes to your wedding?
Here's 5 questions to consider as you sort through the HOW and the WHY of untraditional weddings.
1. What is your wedding mantra?
We recommend finding one saying that encapsulates the mission behind what you want to do with this party. Here are a few examples: "Blow out dance floor where your legs feel like they're going to fall off from dancing!" "Community centered event carving out space for all our friends and family to connect." "Multi-cultural experience that offers small moments of "wow" and "delight." Now, you're turn!
2. What's most important?
Make a list of all the wedding traditions you can think of! "Giving a bride away" or "tossing a bouquet" - then, cross off whatever feels off to you. Keep the rest!
3. Who's opinion is most important?
Is it yours? Your spouses? Both your voices? Your mother-in-laws? The financial contributor for the event? The community you live in? Seriously! Answering this question will help you understand who this event ultimately reflects.
4. What rules will you rewrite?
Challenging the way it's always been done is not always easy. Many times well intentioned family + friends or even wedding vendors will try to push you down a very well defined path - first you do this, then you do this, and then that. You will need to proactive in constantly questioning your WHY - does it go back to our wedding mantra? For example, a "father / daughter" dance might be typical. But that may feel totally irrelevant to you for any number of reasons. You might want to consider a family dance or no parent dances! Maybe there's a grandmother who you want to honor instead? Or favors! Cutesie favors may not be something you've ever thought of but 6 months into wedding planning and you're trying to find what trinkets to buy in bulk and you're making yourself go a little nuts. PUMP THE BREAKS! What if you took favors off the table or reimagined favors? We've had couples do "do a favor tables" where guests can make cards for kids in the hospital or there's an opportunity to donate to a cause the couple cares about. Don't be afraid to rewrite the wedding rules!
5. Who's advocating for your non-traditional approach?
Non-traditional events make up the bulk of what we do here at Modern Rebel. That doesn't mean that the events are super out of the box! In fact, most of our couples don't do things TOO differently but they do reimagine some things whether its vows, traditions, or just small pieces of the ceremony or reception. Making sure you have vendors in your corner who don't subscribe you to a boxed-in super traditional event is key. Be sure you're hiring vendors that align with your values!
Want more ideas on non-traditional weddings?
Let's take it a step further and start chatting about your untraditional wedding plans.